This is for people that want to take a step higher from the debossed bracelets, making  the message of the bracelet more visible. We use manual ink injection technology to finely fill the debossed portions with color.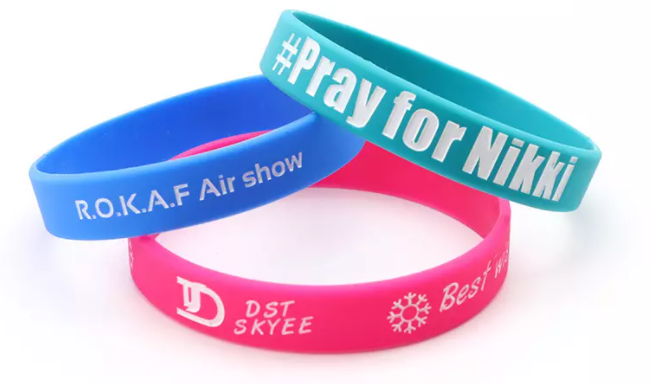 DEBOSSED-FILL IN DIFFERENT STYLE
Embossed in Solid Color Bands
Embossed in Segmented Bands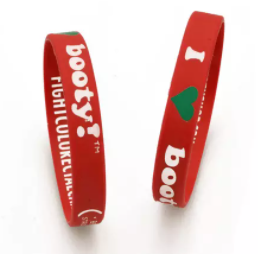 Debossed with 2 to 3 Color Filled
New
PRICE LIST DEBOSSED FILL-BANDS - SOLID SINGLE COLOR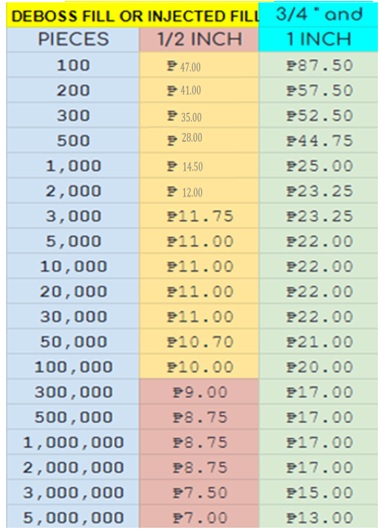 "CUSTOMIZED WITH YOUR OPTION"


Additional Price Per Piece on the Following Requested Option
Ready? A.) Get your scratch pad B.) Finalize your options & Design
Front and Back Message Add: 3.00 per band
Continuous Message Around the band Add: 7.00 per band
Neon on the Dark: Add Php 5.00/band
Glitters on the Band: Add 5:00 Per band
2 Colors in Swirl: Add Php 5.00/band l 3 colors-8 Php/band l 4 colors-12 Php/band
Segmented Per Color: Add Php 5.00/band l or Add 5:00 per color
Converted to keychain Add: 15.00 per band
Repellant : Add 5.00 Php / band
Packaging no Print Add 1 Php per band I Packaging with print and Zip Lock Add 5:00 Php
Packaging Customize with hard board - Call us for more info